Manychat Facebook partiellement down présentement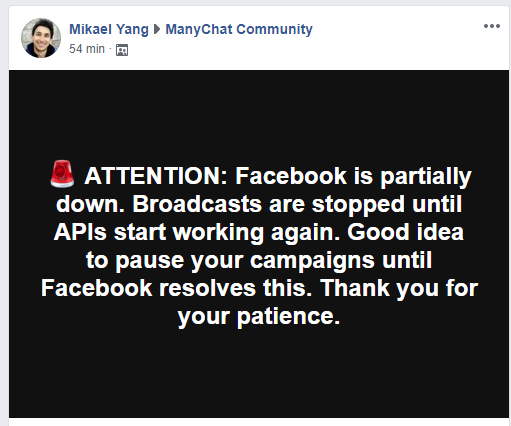 pour votre info Mikael Yang est le CEO / Co-founder ManyChat
Ahhh c'est pour ca que rien ne fonctionne…Merci pour l'info!!
C'est le bon moment d'envoyer une newsletter

les gens ne sont plus sur Facebook!
Ça explique tout ! Merci

Massive Facebook API errors
New incident: Identified
Facebook is currently experiencing an issue that affects message sending and may prevent creation of new ManyChat accounts. The problem is caused by massive errors from Facebook Messenger Send API.
We've stopped broadcasts and sequences to prevent message loss. Right now we are monitoring the situation and we'll let you know as soon as there are any updates.
Time posted
May 6, 15:09 PDT